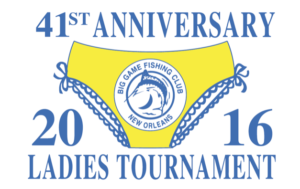 "41" REELIN' IN THE SUN
LADIES INVITATIONAL
HOSTED BY NOBGFC
CALLING ALL LADY ANGLERS!!! KICK-OFF LUNCHEON AT COMMANDER'S PALACE ON WEDNESDAY, JUNE 22ND AT 11:30 FOR ALL LADY ANGLERS TO MEET THE COMPETITION (email beth@boatstuf.com to reserve a place-BRING CASH OR CHECK TO BETH FOR $30).
OUR FUN-FILLED WEEKEND BEGINS THURSDAY JULY 7 WITH COCKTAILS AND HORS D'OEUVRES AT CYPRESS COVE. CHECK-IN BETWEEN 3 AND 5PM WITH MANDATORY CAPTAINS MEETING AT FIVE! PORT EADS WILL BE SERVING DINNER THURSDAY AND FRIDAY SO MAKE YOUR OWN DINNER RESERVATIONS. CLUBHOUSE RESERVED FOR TOURNAMENT. LINES IN AT 6AM FRIDAY, JULY 8 AND OUT SATURDAY, JULY 9 AT 4PM. BOATS MUST BE AT CYPRESS COVE BY 7PM! COCKTAILS AND CATERED DINNER WITH AN 8:30 PM AWARDS CEREMONY WITH BAND PARTY TO FOLLOW. GET YOUR TEAM TOGETHER AND RESPOND ASAP!!    
THANKS, SALLY, BETH & LESLIE